Samsung has refreshed its S-series smartphone and for 2020 is jumping from the S10 to the S20 line. In another new branding strategy, there's no S20e this year to replace last year's S10e. Samsung has followed Apple and made the regular S20 the cheapest in the line, with the S20+ and S20 Ultra above it. I've already been using the smallest S20 as my daily driver. Here is my full review.
Good
✓

Compact feel

✓

Subtle display curves

✓

120 Hz smoothness

✓

Good multi-tasker

✓

Fast charging
Bad
✕

Space Zoom is a gimmick

✕

No 120 Hz at QHD+

✕

Still expensive
Samsung Galaxy S20 release date and price
So there's no S20e this year but that Samsung is sticking with its three-tiers for it's latest flagship lineup. The regular S20 5G, which for now only comes in a 12/128 GB version, starts at $999.99. In the US, only the 5G variant is available, whereas a non-5G variant has landed in Europe for a slightly reduced price.
The official colors are called Cosmic Grey, Cosmic Black, Cloud Blue, or Cloud Pink. It was the Cloud Blue version that I tested. All three models, interestingly, will come in both 4G and 5G versions (at least in Europe). Samsung is future-proofing its flagship series but, as any company that wants to sell a lot of smartphones will know, it's going to be a while before 5G becomes a thing for a lot of people around the world.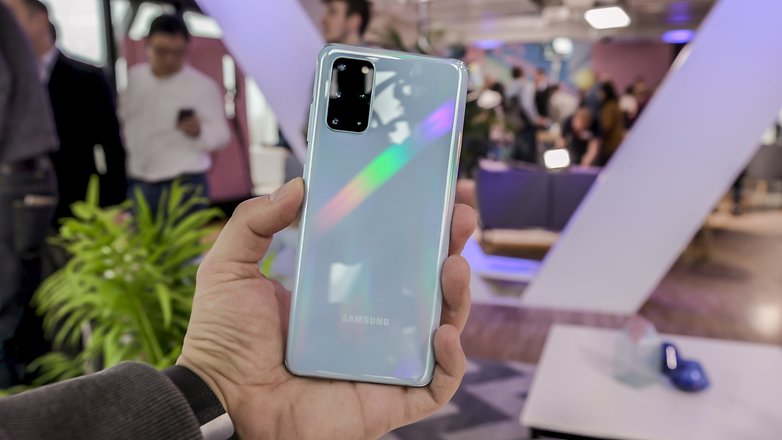 The biggest changes are on the inside
Samsung may be taking risks by launching into the foldable smartphone market with first the shaky launch of the Galaxy Fold and now the upcoming Galaxy Z Flip, but the new Galaxy S20 phones represent a much more conservative approach. Gone are the flashy color sweeps and the reflective Note series, and in come some rather plain and, quite frankly, dull finishes. Having said that, look closer at the S20 and you'll see there's nothing conservative about the camera setup. It's clear where Samsung is placing its chips in this game of smartphone roulette.
The new S20 is also packed with impressive hardware under their bland exteriors.
The ultrasonic fingerprint sensor returns under the display (more on that later) and all devices in the range are IP68 certified to protect against water and dust damage.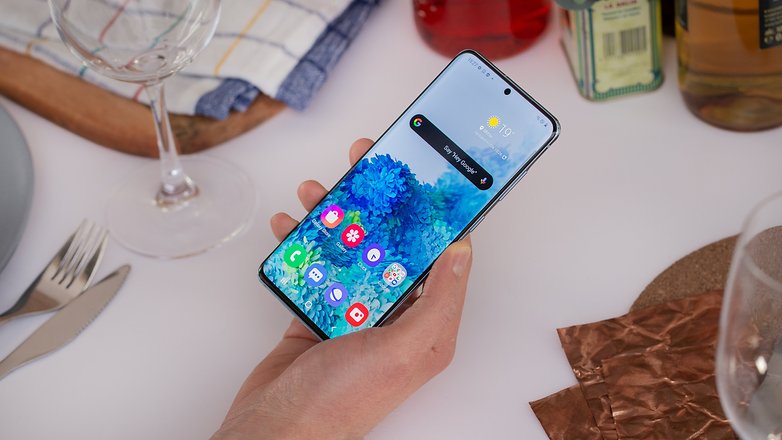 I support the move to the centrally located hole-punch for the selfie camera. I have written previously of my appreciation for pop-up cameras and the truly uninterrupted displays they provide, but if you are going to punch a hole in the front panel, this is where you should do it.
The best display in the business, still
It will come as no surprise to those familiar with the smartphone market that Samsung has once again delivered a set of smartphones with breathtaking displays.
For the regular S20, the smallest device in the range, the display is a 6.2-inch Quad HD+ Dynamic AMOLED with HDR10+ support. It's hole-punched at the top, which Samsung is continuing to call its Infinity-O display. It's Gorilla Glass 6 that is covering the Samsung display.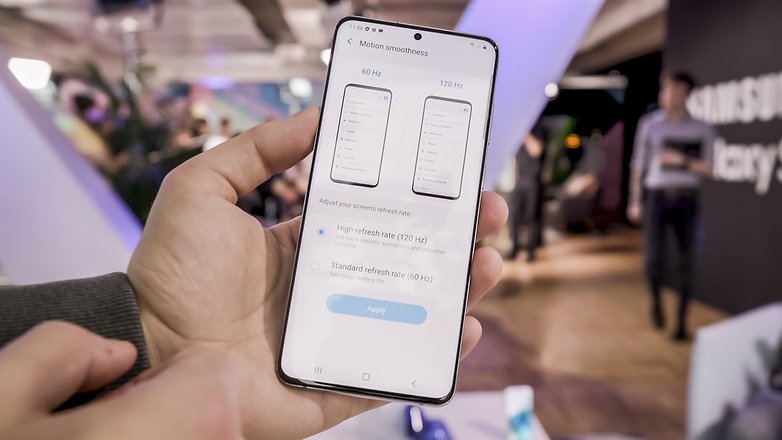 Samsung still makes the best displays in the smartphone business. That's the bottom line here. The new 120 Hz refresh rate is a joy, and makes scrolling so easy on the eyes. I also like the fact that the curved edges, that have a kind of Marmite effect on the consumer in my opinion, have been massively scaled back. There is still a slight curve on the sides, but it is nowhere near the level we have seen from Samsung in the past. To me, it's a big improvement, and using gesture navigation now feels more natural.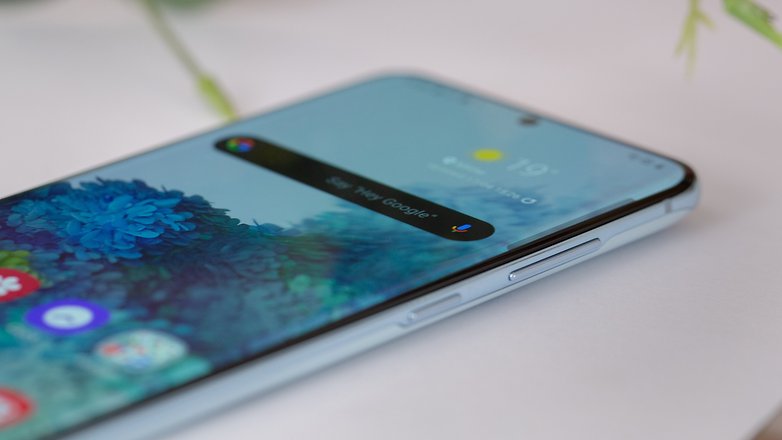 The only thing I can criticize the display for is not allowing me to have the full resolution in WQHD+ 3200 x 14400. It's one or the other, just like on the S20 Ultra. I settled for FHD+ 2400 x 1080, and that silky 120 Hz smoothness. It's a perfectly acceptable pairing, but it would be nice if Samsung had given me the choice to max out both the resolution and the refresh rate.
One UI 2.1 and Android 10
I was never a huge fan of Samsung's own Android interface, but 
One UI 2.1 is easily the best the company has produced.
Samsung's software has always been highly customizable, but now the options feel worthwhile and easy to find, rather than a million options when you just want to choose between a handful. You still get a lot of Samsung's own bloatware in there, and it still slaps you in the face when you start using the device. The Bixby home screen has at least been swapped out for Samsung Daily, which is equally useless.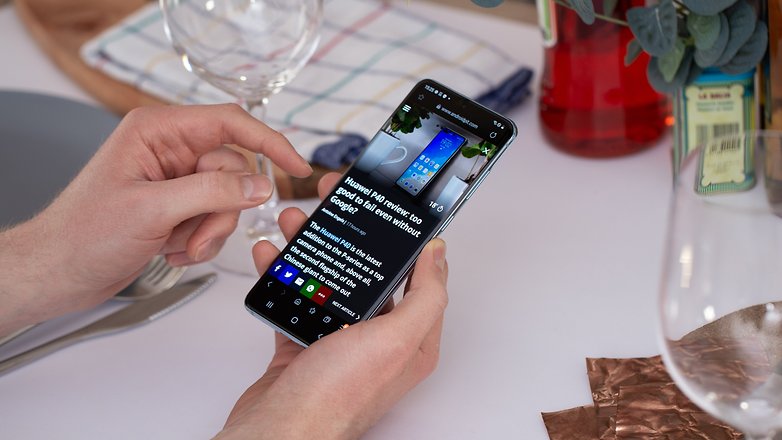 Once you skip the Samsung account sign up, delete the duplicate apps, disable the pre-installed and undeletable Facebook app, and turn off Bixby, everything starts to feel rather pleasant. I am deeply integrated into Google's apps and services and always carry a Pixel phone with me, but for the first time in a long time, I feel like I could make the switch to the S20 and not worry too much about getting my stock Android fix. One UI has come a long way.
Snapdragon or Exynos? That is the question.
In the USA, the Samsung Galaxy S20 is powered by a Qualcomm Snapdragon 865
. In Europe, however, the in-house Exynos 990 is used. Samsung can save a few quid per device by doing this, as it doesn't have to pay Qualcomm for the CDMA. Both are 7nm chipsets, but there has been much furor made over the performance differences between the two SoCs. It was the Exynos 990 version I received as a review sample here in Berlin.
Samsung Galaxy S20 benchmark results comparison
|   | Samsung Galaxy S20 | OnePlus 8 Pro | Huawei P40 Pro |
| --- | --- | --- | --- |
| 3D Mark Sling Shot Extreme ES 3.1 | 6187 | 7122 | 6073 |
| 3D Mark Sling Shot Volcano | 5285 | 6613 | 5427 |
| 3D Mark Sling Shot ES 3.0 | 7462 | 8864 | 3965 |
| Geekbench 5 (Single / Multi) | 896 / 2737 | 887 / 3313 | 754 / 2997 |
| PassMark Memory | 22045 | 27118 | 16489 |
| PassMark Disk | 36311 | 50083 | 65028 |
Several tech YouTubers have claimed performance is up to 25 percent faster on the Snapdragon model, and that the Exynos model gets hotter under intensive use too. The Snapdragon 865 also outperforms the Exynos 990 when it comes to frame rate during gaming sessions. As I said, these are the claims of other tech journalists out there. I can only talk about the Exynos 990 version I have in my hand, and how I found the performance during my time using it as my daily driver.
I found the Samsung Galaxy S20 to be a snappy performer. The 120 Hz frame rate, and what Samsung has done to the touch sensitivity makes the S20 feels snappy and fast during daily use. Gaming performance was fine, but not as quite as smooth as on the OnePlus 8 I was testing at the same time. My guess is that a hardcore mobile gamer would buy a phone with a bigger display than this though.
One thing I do like is the new keep apps open for quick launching. In the app-switching menu, you can now tap on the app icon to open the list of options and pin an app to the RAM permanently. This means you can keep it running in the background and have it open up ridiculously fast. It's great for apps like WhatsApp that you come back to again and again throughout the day.
Solid camera with stilly Space Zoom
Samsung has gone big on the camera sector this year
and even though the S20 lacks some of the extra flair you get with the S20 Ultra, the baby bear S20 are still housing a lot of glass on the back.
On the S20, you'll get a triple camera setup consisting of a 12-megapixel ultra-wide-angle and a 12-megapixel wide-angle camera, as well as a 64-megapixel telephoto camera, to complete the trio. Go for the S20+ version, however, and you'll get an additional time-of-flight sensor that Samsung is calling DepthVision.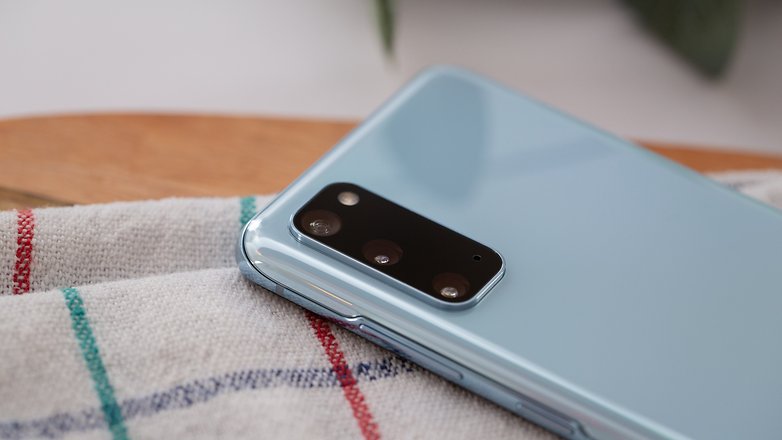 You can see the full arrangement below:
Cameras in the Samsung Galaxy S20
| | | | |
| --- | --- | --- | --- |
| Ultra-wide-angle camera | 12 megapixels | 1.4 μm | F2.2 |
| Telephoto zoom camera | 64 megapixels | 0.8 μm | F2.0 |
| Wide-angle camera | 12 megapixels | 1.8 μm | F1.8 |
| Selfie camera | 10 megapixels | 1.22 μm | F2.2 |
As impressive as the camera hardware is, to take quality images with your smartphone you need first-class software. Samsung has added new photo features to the S20 line for 2020, the standout being a new AI-supported and continuously variable hybrid zoom system. This gives you up to 3x hybrid optical and up to 30x super-resolution zoom. Samsung is packaging this up and calling it its Space Zoom.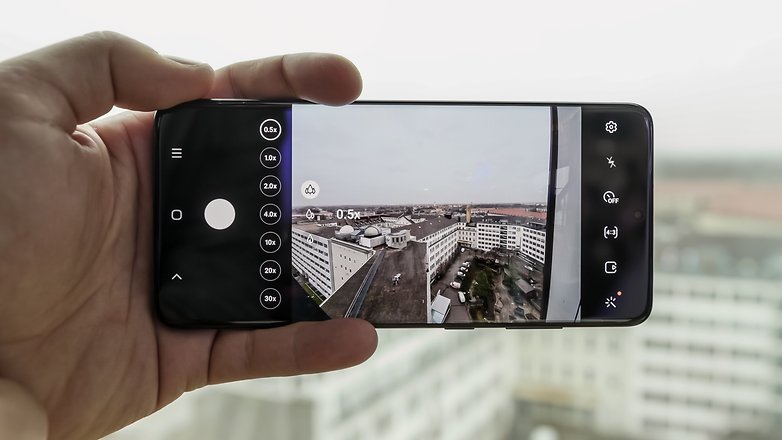 During my time with the S20, Space Zoom seemed to be working rather well. Lining up shots in the viewfinder at even 10x zoom can be tricky, but with the new S20 line small hand movements were quickly corrected by the AI software, and the results were ok up to about 10x. Shots taken at 30x, however, are essentially unusable. Let me show you an example.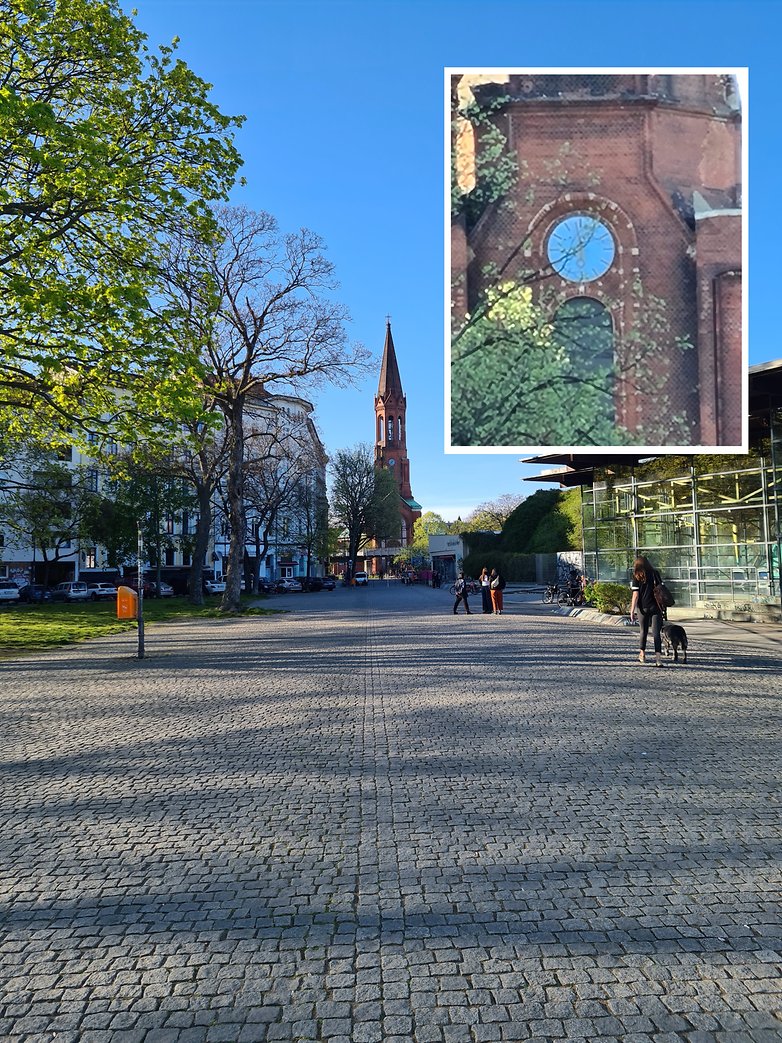 On the whole, the camera performance is really rather good on the S20. The color saturation is often a little on the strong side, but some people like that kind of thing, and Samsung's AI scene recognition is better than ever.
A quick word on the 8K video recording that was touted as being a key feature of this camera at launch. It works, of course, but unless you have an 8K TV or monitor, there is no way to watch the footage. Still, all things considered, the camera on the S20 is a solid upgrade on that of the Galaxy S10.
A day and half of battery life
In terms of battery, the S20 comes with a 4,000 mAh cell.
There is support fast charging at up to 45W, and Samsung has put the appropriate fast-charger in the box. Despite the 4,000 mAh cell, the S20 can manage acceptable battery life. Given that this is an area where the Note 10 suffered compared to the Note 10+, it's nice to see that this is. not a problem with the S20 series. Perhaps that decision to restrict either the refresh rate or the resolution is justified for this reason.
I was easily getting a day and a half of battery out of the S20 in lockdown conditions, where it was almost permanently connected to Wi-Fi. I imagine that battery life will drop a little once we get out and about again, but I would be willing to bet that a full days' worth of juice will no problem here. You can always go back down to 60 Hz, too, if you need a bit more stamina. Charging is also now really fast on the S20 with the included 25W charger. It's not quite OnePlus WarpCharge, but it's fast enough.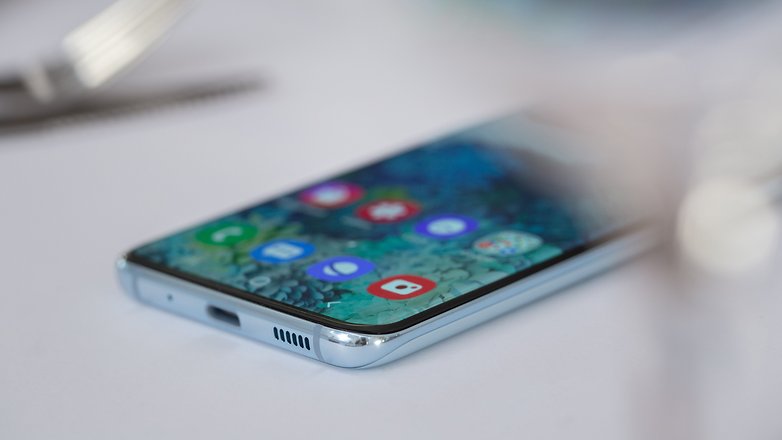 Samsung Galaxy S20 technical specifications
| | |
| --- | --- |
| Dimensions: | 151.7 x 69.1 x 7.9 mm |
| Weight: | 163 g |
| Battery size: | 4000 mAh |
| Screen size: | 6.2 in |
| Display technology: | AMOLED |
| Screen: | 3200 x 1440 pixels (566 ppi) |
| Front camera: | 64 megapixels |
| Rear camera: | 10 megapixels |
| Flashlight: | LED |
| Android version: | 10 – Q |
| User interface: | Samsung One UI |
| RAM: | 8 GB |
| Internal storage: | 128 GB |
| Removable storage: | microSD |
| Chipset: | Qualcomm Snapdragon 865 |
| Number of cores: | 8 |
| Max. clock speed: | 2.73 GHz |
| Connectivity: | LTE, NFC, Dual-SIM , Bluetooth 5.0 |
Final verdict
Having used the Galaxy S20 as my daily driver for a little over a week now, and having previously tested the Galaxy S20 Ultra, I can safely that the smallest, cheapest smartphone in the line up is absolutely the one to buy. The extra camera stuff in the S20 Ultra is really not worth it, and I love the compact feel of the S20 in my hand.
The crazy Space Zoom aside, Samsung has improved every aspect of this line, including reducing the curves on the display, to upping the performance with some new software tweaks. One UI is better than ever, and battery life is no longer the South Korean's Achilles heel. When the price of these inevitably drop, which tends to happen quickly at Samaung, this will be a very tempting offer at around the $700 mark.